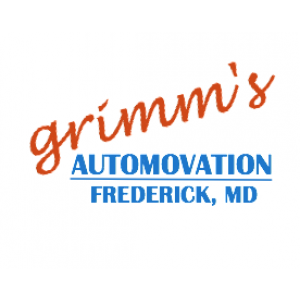 Quality Auto Repair, Towing, and Roadside Assistance in Frederick
If your car, truck, RV, van, bus or motorcycle needs to be repaired you can count on Grimm's Automovation to take care of the job quickly and affordably. We take pride in being the only independent automotive repair facility that offers mobile repair service to handle breakdowns, tire repair and towing service. We offer precise and accurate estimates, working hard to prevent an unpleasant surprise. Although we can handle all kinds of repairs, we are well known for our full brake service and replacement and our free 30-point inspection for vehicles in the shop to help catch problems early and avoid future breakdowns.

Grimm's Automovation, Inc came about in 1981. We started out as a body shop which evolved into towing to help our customers out. The towing kept growing and the body shop converted over to vehicle maintenance and repairs. Repairs at Grimm's Automovation are done on any size vehicle from the smallest of cars to the largest of trucks. Check our fleet of trucks on the Towing Services page. We have the right truck for the job here at Grimm's Automovation.

Our mission at Grimm's Automovation is to provide the best possible service to our customers. We believe that taking care of your vehicle and preventing unnecessary breakdowns will keep you and your family safe.

Our Service Manager will be happy to help you schedule your repair and/or maintenance of your vehicle. We keep track of your records so you don't have to. Those records are available at any time for your review.

Grimm's Automovation, Inc believes that our customers are our greatest asset!

Grimm's Automovation of Frederick MD will return your vehicle to you with the interior free of 'mechanic spots' (grease/oil), clean the windows and protect your seats/floors with covers and mats.

Grimm's Automovation Services include:

Auto Repairs

Truck Repairs
RV repairs
Towing Services
Diagnostic services for your vehicle regardless of make or model
AND Grimm's offers pick-up & delivery!
Our auto repair facility is conveniently located on N. East Street in Downtown Frederick, MD. We serve all of Frederick County, MD and surrounding areas including: Middletown, Thurmont, Brunswick, Urbana, Libertytown, New Market, Mt. Airy, Myersville, Adamstown, Buckeystown, and Urbana.