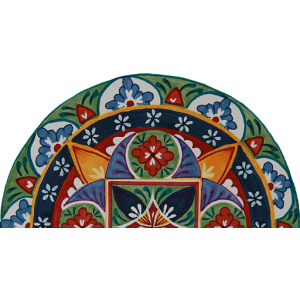 Primitive Homespuns began over 16 years ago in the spare bedroom of my house. I was a former art major and stay at home mom for two wonderful children looking for a way to get creative. So, I started sewing pillows and table runners. Then dolls and animals. I would handle the sewing and my mom would handle the stuffing. We participated in craft shows and church bazaars, slowly building our business. We were a perfect pairing of art and creativity with great energy and humor.
​In June of 2007, my mom passed suddenly and without warning. To say our lives changed that day is an understatement. Mom was the best combination of funny and sweet. Our favorite thing to do was laugh...and laugh a lot, mainly at ourselves. But she never missed an opportunity to connect with people....friends and strangers alike. If you needed a hug, had great news to share or needed anything, she was there. We used to joke that she could make friends with someone in minutes.
​In her absence, my family grew to lean on each other and out of that grew another partnership....my dad and I. He had been woodworking for several years building furniture for my brother and I. So it was natural that we expand to include items from his workshop.
​After several years of traveling to Virginia, Pennsylvania and Ohio to do shows, a series of crazy events lead me to the most wonderful area of downtown Frederick, MD. called Shab Row. I cannot explain how it all happened except to say we were meant to be here...I just knew it in my heart.
​We now have a wonderful shop filled with handmade items from the most talented craftsman. It is a place where we make new friends and old friends come to visit. We hope you stop by and become one of them. ~ Kathy & Family~