Primitive Homespuns Wool & Needle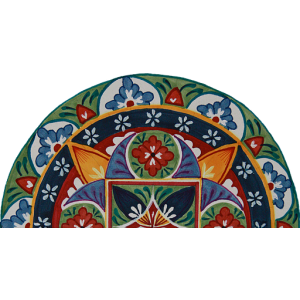 My love for textiles goes back as far as I can remember. I love colors, textures, making things, and I especially love learning. About 15 years ago I decided to turn my love for making Folk Art into a business and became Primitive Homespuns. I started by making quilted pillows and wall hangings then moved on to animals. My mom and I spent countless hours in my little workshop at home sewing, stuffing and painting. My mom would joke that she was so bad at sewing that she once sewed her shirt to the sewing machine (LOL). But she was great at painting and accessorizing so we made a perfect team. In 2007 she died suddenly and life as I knew it was changed forever. My creative partner and silly sidekick was not there and quite frankly I didn't want to continue. But something special happened. My dad, who had created many wonderful woodworking pieces over the years for himself and my brother and I, needed something to occupy his time. He started making small boxes, sconces and shelves and we started hitting the show circuit. We traveled through Ohio, Pennsylvania, Maryland and Virginia doing Folk Art/ Antique shows and met some fantastic people along the way. In 2013 I stumbled upon a fabulous building in Downtown Frederick, MD. in a great area known as Shab Row. Something told me I needed to be there and a few days later we were signing a lease. We have had a remarkable 3 years there and look forward to many more. One of the rooms inside of our Primitive/ Colonial shop was dedicated to fiber arts and needle work. We carried wool fabric, linen, threads and patterns. I gave classes on select weekends in rug hooking, wool applique, punch needle and cross stitch. Space was very limited and there were times when we really had to squeeze to hold a class.
In early 2016 I was given the opportunity to lease another property just two doors down from our shop. It is a beautiful log house dating back to the mid 1800's and I knew right away what I would do with it. After many hours of hard work by my amazing dad and awesome husband we opened for business May 7th. I was so excited to have a shop that focuses on fiber arts and artists and a place where women (and men) can get together and be creative. The first floor is dedicated to supplies and the second floor is set up for classes and workshops or just a place to sit and hook/stitch. I hope you get the chance to stop by and if you live far away and are looking for something special, just email me….I might just have what you are looking for.
I want to take the opportunity to thank my amazing family. They have given me their unwavering support and none of this could have happened without them. We are a tight knit group and I am blessed to have them :)